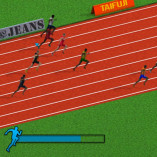 100 Meters Race
100 Meters Race: Be the best at the 100 meter dash race. Yeah, seems strange today, just remember to not run too fast or you will fall. Ready go!
Code This Lab made 100 Meters Race
Gameplay features:
100-meters running race
Eight character options from different countries
Various tracks to beat
Buyable upgrades to enhance your runner
How To Play
Press left and right mouse buttons to run.