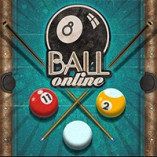 8 Ball Online
It's time to show off your billiards skills in 8 Ball Online. Get your cue stick ready, drop the balls into place, and give it your best shot. Whether you've played this game previously or not, we're sure you'll enjoy it. Have fun!
How to Play
Pick a ball
Choose one 8-Ball in 8 Ball Online, an easy-to-grasp pool game. Your goal is to sink all of the balls that are either striped or spotted. Your starting balls will be determined by the ball that gets potted first.
Line up your cue
The controls are easy: just click and drag to find the right amount of force, then line up the angle with the ball that looks easiest to sink. Don't forget that this is pool, so don't pot the 8-ball until you've potted all your other balls.
Check out our collection of pool games for more cue-based games. 8 Ball Pool and 3D Billiard 8 Ball Pool are two other popular games in this category.