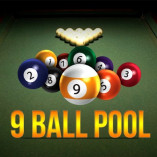 9 Ball Pool
You seem like you could be a pro at billiards. In what record time did you sink the 9 ball? This modern take on the classic 9 Ball Pool experience has responsive controls, smartphone compatibility, and enjoyable visuals. When all the other balls are gone, start striking the black ball in order to complete the level. Play a well-made pool game with the 9-ball game mode.
The goal of 9 Ball Pool is to aim and drop the 9 ball into the previously stated pocket, with the only rule being that the lower numbered ball must be touched first. It sounds simple, doesn't it? Focus on your excellent aim and be ready to have a blast; don't let appearances fool you. There are many levels of difficulty, and you will naturally move up through them, starting with the easiest. At the end of each difficulty level, you can win additional retries in the bonus round. To get the whole board, you need to plan ahead before you start striking the balls.
MarketJS created this game.
How To Play
You aim and release the cue with the mouse to hit the balls. You have to hit them so that they all go through the holes on the side of the table, but you can't lose your white ball or you'll lose and have to start over.