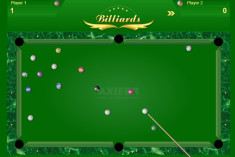 Axifer Billiards
Axifer Billiards: Play a game of billiards against the computer or one of your friends! Use the mouse to aim at the ball you want to pot. Have fun!
8-Ball: Sink all the balls in your suit—solids or stripes—but save the black ball for last!
Straight Pool: Be the first to sink any 8 balls!
Features
How To Play
Drag left mouse button backward to adjust the strength, release to hit the balls.