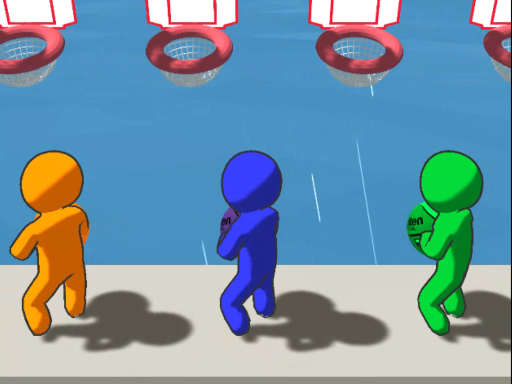 Basket IO
Basket IO is an extremely interesting multiplayer basketball game with fierce competition that brings you excitement when participating in the game. In this game, you will participate in a 3-player basketball match. Your player will have one color, and you play against two others, each with their own color. In front of the stickman will appear three rows of baskets moving at a certain speed. Your goal in this game is to use the basketballs on the fly and take advantage of the right moments to launch shots to successfully land the balls into baskets. The ball falls into the far basket, and you will receive the highest score. And the number will gradually decrease based on the distance from you to the baskets. The closer the distance, the lower the score you get. and vice versa. All players will try to throw all the balls into the basket within a certain time. After the match ends, the person with the higher score will win and move on to the next round. Try to defeat other opponents and become the strongest basketball player.
Concentration and sharp reflexes will be the keys to helping you win against your opponents. Good luck
How To Play
Take advantage of the opportunity, then left-click to make successful throws.