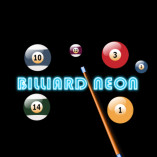 Billiard Neon
If you are a lover of billiards, do not ignore the game called Billiard Neon. This will be a perfect choice for those who love billiards. In this game, your goal is to hit all the balls with a score less than 8 that fall into the hole and leave the 8 ball at the end. Always keep in mind that you must not hit the 8 ball into the hole or you will lose. After hitting all the balls that fall into the hole except the number 8 ball, you will be moved to the next level. To successfully put the ball into the hole, you have to calculate the trajectory and direction of the ball. Join now and show us how outstanding your billiards skills are.
In addition, you can join some other interesting billiard games on our website, such as 8 Ball Online, 9 Ball Pool,... Join now and don't miss out.
How To Play
Use the mouse Drag to aim/Release to shoot.