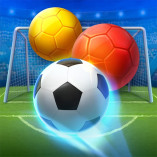 Bubble Shooter Soccer 2
Bubble Shooter Soccer 2 is an enhanced version of the legendary Bubble Shooter Soccer game, where you'll be shooting colorful bubbles and enjoying your favorite sport. Let's play a classic bubble shooter and soccer game simultaneously.
Bubble Shooter Soccer 2 was developed by SOFTGAMES-Mobile Entertainment Services GmbH.
How to play
Shoot the soccer balls with your mouse from below at the ones at the top, so that you can hit great groups of at least three of the same color, which will eliminate those balls and grant you points. It is possible to see the shooter beneath the lines of balls, which also shows the ball in hand. In order to score, you must calculate your moves in advance and throw the ball at the most suitable spot. Through the use of jumping balls, points up to 50, 100, and 250 can be earned at random. You don't run out of space to play the game! Try to get large groups to earn more points!