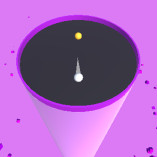 Circle Pool
Circle Pool is the latest version of the game of billiards with a very special gameplay in which you will blow up the balls on the table without a cue stick. The game has a total of more than 100 levels, with different levels of difficulty in each stage. Your goal in this game is to pass each level by blowing up every ball you see on the table. To do this, you should hit your white ball so that it collides with the other balls on the table and blows them up. To pass a level, you must destroy every yellow ball on the table. After blowing up all the balls on the table, the system will move you to the next level in the game. You will have a limited number of hits, so try to blow up all the balls on the table in one hit. Good luck.
In addition, you can join some similar billiard games like 8 Ball Online, 9 Ball Pool,... Join now and don't miss out.
How To Play
Hold down the left mouse button to aim, then release the mouse to shoot the ball.