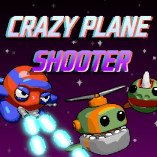 Crazy Plane Shooter
In the first-person shooter game Crazy Plane Shooter, the player defends the woodland they call home from an extraterrestrial invasion. Having to take on hordes of wicked monsters all by yourself will be a significant test of your mettle. They're always charging at you and firing off rounds. Avoid getting eaten by monsters by staying at a safe distance and firing at them from a distance. You'll need sharp eyes and quick reflexes to outwit the foe and restore tranquility to the forest. You can become a true hero right now by joining the game. I pray you enjoy yourself.
How To Play
To ascend, press the W key.
To descend at high speed, hit the S key.
To fire at the creatures, press the spacebar.