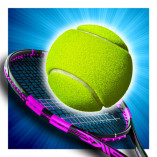 Crazy Tennis
Crazy Tennis is an extremely attractive tennis-related sports game. This will be a perfect choice for those who are passionate about tennis sports. The game has two modes: single player and double player.
In single-player mode, you will play tennis with a robot.

In 2-player mode, you will play with another random person, or you can play with your friends.
At the beginning of the game, both players will hit the ball back and forth, trying to use their great playing skills to perform beautiful shots that make the opponent unable to block. In the match, the player with the highest score wins and advances to the next round. How many matches will you win in this game? Join now and show us your soccer skills. I hope you have fun!
How To Play
Use the arrow keys to move.
Press SPACEBAR to Service