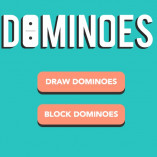 Dominoes
Enjoy this board classic - Dominoes! A round of domino is played until one player places all of their tiles or until the game is blocked and neither player can make a move. At the beginning the players receive 7 tiles and the one with higher double begins the game. The player who earns 100 points first wins. Winning 100:0 nets you 1000 in the game. Simply boot it up and play!
Features
Two game modes
1 vs 1 dominoes game
Five background color options
How To Play
Press left mouse button to select the cards.