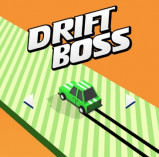 Drift Boss
Drift Boss is an HTML car game that will test your drifting skills. You will enjoy a lot of drifting that you like so much. Keep playing to earn rewards and unlock better cars. Have fun and be challenged by this exciting car drifting game!
Gameplay features:
Play easily with one-button controls
Fun and thrilling arcade platform game
Unlock more vehicles by collecting more points. Get trucks, taxis, police cars, ice cream trucks, ambulances, firetrucks, and more
Mobile and desktop support
Great soundtrack
How To Play
Press left mouse button or space bar to drift to the right
Tips:
Only drift when you're close to the bend.
Upgrade your car for better tire grip.