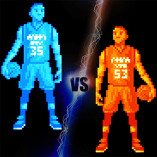 Dunkers Fight 2P
Dunkers Fight 2P is a furious basketball sports game in which you must accomplish a number of ball skills while attempting to hit the hoop. In two player mode, you can play this basketball game with your buddies. When you first start the game, you must select one of two game modes. Then, to begin playing the game, press the Play button. You will begin the game by playing a two-player basketball game in which both players will do their hardest to get the ball and throw it into the opponent's basket. The player with the most goals in the opposing basket wins. To defeat your opponent, you must employ a wide range of basketball skills. To earn extra points, try your hardest to make the pitches. Counterattack if your opponent steals the ball from you. There is no timer in this game. Only when one of the two players scores three points does the game conclude. Now you may enjoy your passion for basketball with this fascinating game. I hope you're content!
How To Play
Player 1
Player 2
To move, use the left and right arrow keys.

To throw, use the UP ARROW KEY.