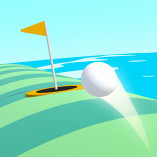 Fabby Golf!
If you are a golf lover, you cannot miss the game of Fabby Golf!. This will be a game to help you practice your golfing skills. You will go to the island in the middle of the ocean and play there on various golf courses. At the start of the game, you will see a ball lying on the ground in front of you, a certain distance away from a hole marked with a flag. Your goal is to click on the ball and get it to roll correctly into the hole marked with the flag.
To be able to easily put the ball into the correct hole, you will have to observe and calculate the trajectories that the ball can take to adjust the most accurate direction of the ball. Try to hit the ball into the hole with as few attempts as possible. Patience will be the key to winning this game. Good luck
How To Play
Hold and drag the mouse to bring the ball to the marked hole.