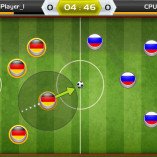 Finger Soccer
In the exciting football game of Finger Soccer, you'll take part in tournaments with many balls and a wide range of skill levels. You can play this game in one of four different ways: against the computer, against a friend, in a tournament, or with penalty kicks. Two-player option allows you to compete against a friend. You get to pick from four different game types at the start of the game, and the point is to put as many goals as possible past the other team's goalie. Plan to exert command over your squad by choosing the best route for the ball to score goals and defeat the opposition within the allocated time. Get in the action right now and help your team out.
There are a plethora of other fun football games out there to explore, such as Gravity Soccer 3, Football Run,... If you join today, you won't miss any of the next contests.
How To Play
To produce accurate shots, use the mouse to drag and aim.