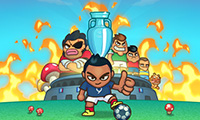 Foot Chinko: Euro 2016
Foot Chinko: Euro 2016 is an extremely interesting football-themed sports game in which you will have the opportunity to compete with famous football teams. First, to start the match, you will select the country in which you will compete and press start the match. In this game, your goal is to win each match and score as many goals as possible! The most special thing about this game that you don't find in other games is that the members of a team will not move on the field but they will stand still. You only need the mouse to play and you won't have to run! You will maintain your position and aim for another player on the team to pass the ball to them. On the field, there will be many players from the other team blocking your pass. Therefore, you should aim carefully and make accurate passes so that the players on your team can successfully shoot the ball into the opponent's net. Each match will take place within a certain timeframe. When time runs out, the team that scores more goals will win. Don't hesitate to join the game and prove your team's soccer skills to us.
If you love soccer games, you can join our sports game collection right on our website. Join now and don't miss out.
How To Play
Use the mouse and interact on the screen to control the direction of the ball.