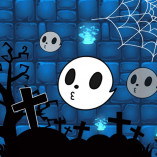 Halloween Ghost Balls
Help the ghost ball multiply by gathering the green flame in Halloween Ghost Balls, a Halloween-themed skill game. On Halloween, there are ghosts, and sometimes they show up in groups. On this night, you have to lead a group of ghost balls safely through an underground maze from level to level.
How to play
Drag the ghost balls using the mouse (or your finger, if playing on a mobile device) across the levels, collecting more ghosts as you go and avoiding the traps, obstacles, and enemies that stand in your way. Do your best to keep everyone in the group together and never let anyone fall behind.
You can always see how many of your ghosts need to pass through a portal at the end of the level in the top part of the screen. So, if you lose track of a ghost and want it to rejoin the group, it may be worth it to float back to it from time to time. On the way, your group of ghosts will face problems like tight, tangled hallways, as well as a rooster, who probably loves to eat these balls. But you can get your group to float above these scary balls, too, by moving your finger or the mouse up. The scary balls will follow your lead. You can only win a level if you get enough ghosts to the portal at the end of each level and don't get caught in any traps. Have fun!