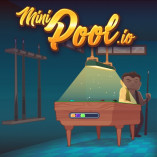 Mini Pool.io
MiniPool.io challenges your precision and dexterity to become the king of billiards. Challenge yourself to achieve the highest possible score in the shortest amount of time. Score points and time bonuses by pocketing each ball. Be as quick and precise as possible. It's also possible to play online and compete with other players in intense games. Prove your skills by defeating your opponents without shaking when you have to put the balls in the right place.
How to play
Play against your friends after selecting your avatar and customizing the stick and table. Three stars are awarded to the winner of every 1 vs. 1 match.
There are two different game modes:
VS PLAYER: You'll play against players from around the globe who have similar skill levels.
Solo: You can practice on your own - try to reach 2500 points before the timer expires.
You should try 8 Ball Pool from Miniclip if you're looking to play pool online. However, there are others as well, such as 9 Ball Pool and Pool Club. It is even possible to play pool in 3D with 2048 Billiards 3D.