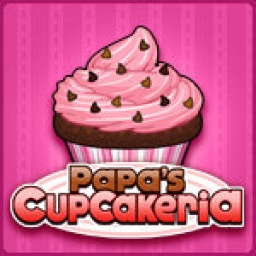 Papa's Cupcakeria
Flipline Studios brings us Papa's Cupcakeria, a cool restaurant management game. Louie needs your help, and you can serve all customers to the best of your ability. As usual, you'll take the customer's order and bake and customize the cake to their specifications.
How to play
As a game progresses, the order is received and executed at the following stages:
Initially, you will need to note down all the instructions related to your order at the Order Station.
At the Batter Station, you will need to choose the type and quantity of batter once your order has been received.
At the Bake Station, make sure the cupcakes are properly cooked, as undercooked or overcooked cupcakes will not earn good tips.
At Build Station, you top up the cupcakes with icing, sauce, and other toppings as per the customer's preference after they are baked.
Game Features:
With mouse-based controls, even children can play the game without any difficulties.
A wide variety of decoration options are available for decorating your restaurant.
The game also has a lot of upgrades that you can buy to get more tips from customers.
Different costumes and accessories can also be purchased to upgrade your playable character.
A customer may have a recipe that they'd like you to prepare according to their instructions. If you prepare it to their satisfaction, they'll give it to you to keep. Become the talk of Frostfield by keeping your customers happy! Decorate delicious cupcakes and serve them! Check out the other Papa's games and show off your baking skills.