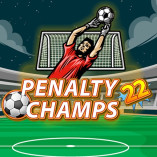 Penalty Champs 22
Penalty Champs 22 is a hybrid soccer/football game in which you take control of a national team and attempt to win the championship by scoring and defending penalty kicks. Take turns shooting; choose how high and fast to shoot; and jump to the goal to catch the ball.
Penalty Champs 22 was created by Physical Form.
How to play
Select your team, then click the "skip groups" option to be put into a one-on-one match. In addition, you can use that table to plan your matchups. Step onto the field and begin warming up. There are three steps to shooting, but keeping the goal is all about reflexes. You'll play both the roles of striker and goalkeeper, switching back and forth between the two.
When you shoot, you have to click three times to choose the shot's direction, height, and power. When defending, a single click on the spot where you want the goalkeeper to dive is all that's needed (immediately before the shot, you will see a target that shows where the opponent will shoot). Score more goals and defend better than the other team to win.
If you enjoy this challenging game of football, you may also enjoy some of our other Sports Games! Have fun!