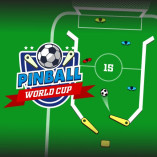 Pinball World Cup
Pinball World Cup is a great soccer and pinball simulation game. Scoring is as easy as hitting the pinball paddles. In each level, your goal is to score 10 goals to win. Don't let your soccer ball fall into the pit and lose it. Have fun as you try to get through 20 hard levels full of opponents.
MarketJS created Pinball World Cup.
How to play
There are a total of 20 levels in the competition, with each one increasing in machine difficulty, and you can earn between one and three stars for your efforts at each level. Shoot your balls through the pinball machine's paddles, which you control with the left and right arrows, to score goals and advance to the next level, much like in soccer.
You get more stars at the end of a level based on how quickly you finish it, so try to be fast and skilled by focusing and moving the paddles as well as you can. Have fun!