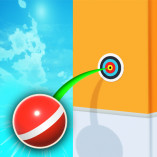 Pokey Ball Jumper
Pokey Ball Jumper is an extremely fun ball jumping game that gives you the fun experience of dragging and throwing the ball onto the pole. Your goal in this game is to pull and raise the bouncing ball as far as possible to reach the treasure at the finish line. To get the ball up, you have to stretch the ball and let it go as far as possible. To secure the ball in place, you must tap the screen and insert the needle into the existing wall. The needle will not stick to the hard wall. So stick the needle into the wooden wall, being careful not to let the ball fall to the ground. Otherwise, you will lose. You have to patiently overcome obstacles and throw the ball up at the most appropriate time. The game has a total of more than 50 different levels waiting for you to conquer. Join today and conquer the levels in this game.
In addition, if you love sports games, you can participate in many games with many different sports on our website. Join now and stop missing any exciting games
How To Play
Control the ball by holding down the left mouse button and dragging it.