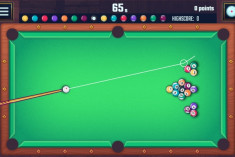 Pool Club
Welcome to Pool Club! Pocket all of the balls before the timer expires. Each pocketed ball will earn you 50 points and five more seconds on the clock, but sinking the cue ball will cost you valuable points. Drag the billiard cue to control the power and try to earn as many points as possible!
RavalMatic developed this game.
How To Play
Drag left mouse button backward to adjust the strength, release to hit the balls.