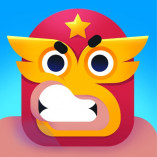 Punch Bob
The 500-pound warrior Punch Bob invites you to take part in a crazy wrestling match in which you must help him mercilessly destroy his enemies.
Your goal in each level is to knock them out as quickly as possible while using the fewest punches possible. Keep fighting despite exhaustion and shortness of breath! Use your jump to increase the force and angle of your strike, and then launch yourself at your opponent with maximum speed - forget about firearms and let Bob win with his jumps and throws alone. Good luck!
Simplicity Games developed this amazing fighting game.
Game Controls
Click and drag the left mouse button to aim.