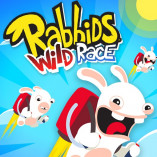 Rabbids Wild Race
Rabbids Wild Race is a fun game where you jump and run and can give the white Volcano Panic bunnies a jetpack to fly around.
The white creatures have put a jetpack on their skinny shoulders and are now racing to see who can beat them. Collect as many stars as you can in the air before other players do, but watch out for traps and other rabid bunnies; colliding with either will end your run. It's time to go rogue! Upgrade the rabbit's dress and load up on jetpacks.
Rabbids Wild Race saga was made by Ubisoft.
How to play
You can use your mouse or your keyboard to play Rabbids Wild Race. You can use your jetpack to fly by jumping, or you can run on the floor to move faster. The Rabbid will run if you don't use the left mouse button, but it can perform a short jump if you tap it or the screen. Hold down the left mouse button or the screen for a longer period of time to send him soaring even higher! So try to avoid danger on the ground or in the air and get as many metres behind you as you can. There are sometimes moving belts in the air. Pay attention to the direction they are going. They can provide you with an advantage, but they can also provide you with a significant disadvantage if you land on one that runs in the opposite direction. During your runs, you can also pick up coins. You can use them to buy different hats, accessories, and clothes for your Rabbid to change his look. In this fast-paced game, you can play against people from all over the world and see if you can beat them.
Rabbids Wild Race tricks:
Watch out for the time when your shield is no longer protecting you. A white barrier draws attention to this time and place. If you step over the line, the other 31 Rabbids can jump over each other and hit you.
When the race is over, you can go to the main menu and use the stars you picked up along the way to unlock an item. With this armour, you'll be able to take more hits in your next race.
You can buy cool clothes for your Rabbid in the shop with the coins you earn while playing games. Mix and match hats and glasses, like the Viking hat, with the rest of your gear to make your Rabbid look different.