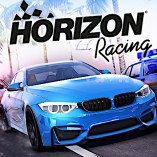 Racing Horizon
In Racing Horizon, you will drive fast cars on the highway as well as try out four different game modes. You can drive cars such as VW Scirocco, BMW, Mercedes, Land Rover and more in each mode. Have fun!
How to play
Take control of many exciting cars using WASD keys or arrow keys. Ignite the nitro booster with N key. Choose your first highway on the map and start racing!
In Missions mode, you can complete various tasks within a set time limit.In Endless mode, you can drive indefinitely without restrictions. In Time Up mode, you can reach the highest score within a designated period. Escape mode requires you to drive faster than 100 km/h without getting caught by the police. Will you be able to do this without colliding with other vehicles and objects?
Several factors can be selected, including the weather, the time of day, the type of traffic, and the type of road. Have fun with this thrilling racing game and see what parts you succeed best. You may also enjoy Highway Road Racing, another exciting racing game with unique graphics, if you enjoyed this game.
Controls Guide
W or up arrow key to accelerate
S or down arrow key to brake
A or left arrow key to move left
D or right arrow key to move right
N to NOS
C to change camera view