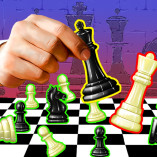 Real Chess Online
Real Chess Online game is a game of chess that anyone has played before. This will be a perfect choice for those who love chess. You can play this game with these two things: 1 person and 2 people
If you play by yourself, you'll play chess against a computer.
If you play in 2 player mode, you can either call a friend to play or pick a player at random to join the match.
At the start of the game, each side will be given a white or black piece. When the game starts, you can see what moves are possible by clicking on the pink-highlighted pawn. You can learn more about the expert side of this game by looking at the names of the moves on the left side of the game screen. Move the pawn by clicking on it and dragging it in the direction you want. Join now and show us how good you are at chess. How many times do you think you will beat your opponent? Show us what you can do. I hope you have fun!
How To Play
Use the mouse to move the pieces to the position you want.