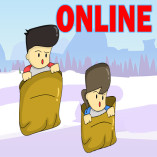 Sack Race Online
Sack Race Online is a very fun traditional sack jump game in which you will participate in a sack jump competition with many other players. All players will join at the starting line after the starting signal, and all will speed up and try their best to reach the finish line in the shortest time. The first person to cross the finish line wins. You have to try your best to jump as far as possible to overtake your opponent at the finish line as quickly as possible and win. This game requires you to focus and have good health. Perseverance and agility will help you win this exciting game. If you find this game good, please share it with your friends.
And if you want to participate in more interesting sports games, you can join some games such as Tennis Masters, Pro Bowling 3D,... Join now and don't miss out.
How To Play
Left-click to control the character in the game to perform jumps to the finish line.