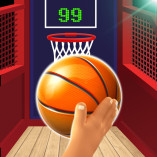 Shot Shot
Shot Shot is a really intriguing basketball video game in which you play on a basketball court with a machine that automatically shoots baskets on various levels. You will take part in playing basketball on an autonomous basketball machine in this game. You will be given a set amount of time for each stage. To complete a level of the game, you must successfully throw the ball into the basket within the specified time. You are restricted in terms of both the number of successful balls and the amount of time. You lose and the game is restarted if the allotted number of balls are not correctly thrown before the time runs out. To properly put the ball into the hoop, aim exactly in the direction of the throw. You will score 3 points for each throw that is successful. How many levels will you complete in this game and how many points will you earn? Join the game right away and demonstrate your basketball prowess.
Don't forget to tell your close friends about this game if you find it intriguing! As you take part in this game, I hope you learn something new.
How To Play
To make accurate throws into the basket, hold down the left mouse button and drag it.