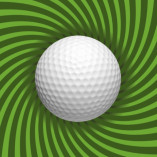 Speedy Golf
If you are a lover of the sport of golf, you must not miss a game called Speedy Golf. This is a fun clickable sports game to play. In this game, you will participate in an American Golf Championship golf competition. Your goal is to hit and race the ball to fall into the holes marked with special flags. By clicking on the screen, you will open a special panel to calculate the trajectory and impact force. When you're ready, just click and roll the ball in the right trajectory to make the ball fall right, making the hole marked before. You need to get the ball to the hole with the minimum number of hits. If you use up the number of strokes without the ball falling into the hole, then you will lose, the game will end, and you will have to start the game again.
To win this game, observe and calculate the trajectory and direction of the ball rolling to make accurate shots to successfully land the ball. Patience is the key to winning this game. Join now and show us your golf skills. I hope you have fun!
How To Play
Use the mouse to manipulate the screen.