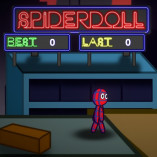 SpiderDoll
In Spiderdoll, you will be swinging your wire from building to building, as you try to escape the evil OctoPuppet. This is a new arcade game with 2D art style and addictive gameplay.
In SpiderDoll, you can explore a large number of cities with diverse backgrounds. You can launch your wire to attach to buildings and metal beams, then swing to gain speed while always keeping a forward course. You must travel the longest distance possible while hanging on your wire without falling off as the dangerous creature following you will try to catch up with you. It's a race against time because the chasing creature will take advantage of every mistake you make.
As you progress through the stages, many new obstacles will crop up. Most importantly, always remember that failure to swing will result in a loss. Therefore, you need to be very careful when taking each action. You will be able to savor the excellent physics of the game. The endless distances of this Spiderman game await all players. Have fun!
SpiderDoll was created by Ysopprod.
How To Play
Use Left/Right Mouse button to swing
Space bar + Left Mouse Button to shoot