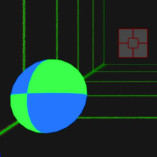 Spinball 3D
Spinball 3D is an extremely exciting 3D table tennis game in which you will experience the real and new feeling of playing a very special table tennis game. In this game, you will participate in playing table tennis in a transparent 3D space. There will be two modes for you to choose from: single-player mode and two-player mode.
For single-player mode, You will play with a robot.
For 2-player mode: You will compete against another random person, or you can join your friends in this mode.
Both will participate in catching a blue ball back and forth. Whoever gets the highest number of points wins and gets a ticket to the next round. Try to catch the ball and launch shots that make the opponent unable to block. Each time you do so, you will score one point. Try to lead the scoreboard and beat your opponent.
Observation skills and hand-eye reflexes will be the factors that help you win this game. I hope you have fun!
How To Play
Use the mouse to interact in the game