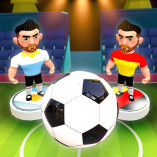 Stick Soccer 3D
Stick Soccer 3D lets you play multiple tournaments using different soccer tactics. This game features different types of soccer match tactics, football teams, stadiums, and more. The game can also be played solo or with a friend. Speed and tournament modes are also available. Now it's time for soccer matches!
RHM Interactive developed Stick Soccer 3D.
How to play
Both players use the same controls. Click on a player when it is your turn, aim with your "MOUSE" and release to shoot.
This turn-based mini-game can be played alone or with a friend on a mouse. Take turns. When you click on a player, aim with your mouse at the player you want to pass the ball to. Shoot with the left mouse button. Like in any soccer game, your objective is to score as many goals as possible within the given time limit. Don't forget to check out the speed mode in tournament mode, which uses fast kicks.
Purchasing new players and teams in Stick Soccer 3D will allow you to evaluate their skills in terms of goals, power, and speed. Ensure that your team wins every match and takes home the championship trophy!
Check out Penalty Champs 22 if you like Stick Soccer 3D.