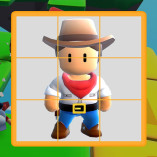 Stumble Boys Sliding Puzzle
Stumble Boys Sliding Puzzle is a fun multiplayer puzzle game. In it, you will have to successfully stack the assigned images. You will be limited in time to complete the puzzle; each picture will be assigned a certain amount of time, and your task is to match and complete the picture as quickly as possible to move to the next level. If the time is up and you have not finished arranging the picture, your mission has failed, and you will have to start the game again. So observe and match the puzzle quickly to proceed to the next level. The game will be a way to help you practice logical thinking and quick reflexes. Join the game now to see how many levels you can pass in this game! Have fun playing and conquer many levels in this fascinating game.
How To Play
Hold down and drag the left mouse button to arrange the puzzle pieces, complete the puzzle as quickly as possible in the allotted time.