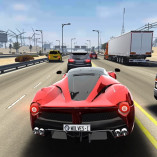 Traffic Tour
Traffic Tour is a popular racing game in which you can fight online against friends or random opponents and participate in daily events. During all of these really cool traffic events, you'll get to play with cars that go really fast and have a lot of power.
It was made by Wolves Interactive.
How to play
You can expect a game environment with many different types of tracks and more than 100 missions. You can race in the city, at night under the lights, in the rain, or in the desert. There will be a lot in your way, like other cars or big trucks. Additional features in Traffic Tour can be unlocked using keys you win.
Use WASD to steer and Shift to start the nitro boost. You can keep getting new race cars and upgrades by using your winnings to buy blueprints for new cars in Endless Mode. There are 40 cars that can be tricked out in more ways than one. You can also change their colour, paint job, and wheel trim.
Game modes:
In Traffic Tour, you can choose from four game modes: Career, Race, Daily Event, and Road Mining.
Career mode: There are different goals for each level in this mode. You have to do these things to win and make more money.
Race mode: "Race" is a type of online game where you can play against friends or random people. There are three different arenas here, and to play in two of them, you have to unlock them first. You'll need to spend some cash on a "game stake" to enter the races.
Daily Event mode: You can play this mode once a day to get a different reward each time. You will also get better prizes based on how good you are. Here, you play against people chosen at random. You can even use smileys or text bricks to answer messages.
Street Mining mode: This is a game mode where you can keep improving your driving skills by driving in Free Ride mode, Endless mode, or on Time.
If you liked how exciting this game was, you should check out our collection of free and online racing games to find more like it.