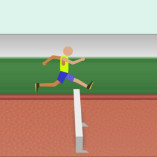 TRZ Athletic Games
TRZ Athletic Games is a sports game that combines many different sports such as Sprint, Long jump, High jump, Javelin, Hurdles, Pole vault,.... The Olympic sports season has begun with many different sports. To win the championship in this Olympic sports competition, you will have to participate in different sports and score a perfect score. By excelling in all different sports, you will win and become the champion in this Olympic competition. Join the game now and let us know how many games you can win. Try to reach first place to win the medal.
If you want to play more sports games, then you can join all the cool and exciting games on our website. Join now and experience
How To Play
Use a combination of the left and right arrow keys to control the athlete in the game. Press SPACEBAR to jump.