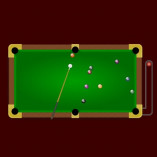 Trz Pool
TRZ Pool is an online billiards simulator that you can play for free. This fun experience is worth spending time on, so get started now. Play with balls and get them into pockets. It is suitable for players of all levels, from beginners to experts.
This game was created by trezegames.
How to play
You must hit the cue ball into the other 10 numbered balls with your cue stick. The goal is to put them all in the pockets to win. Challenge yourself to beat your best score. You can earn bonus points if you make consecutive shots. Your score won't drop if you miss shots; it will drop only if you break the chain of consecutive shots. If you enjoy this game, you should also check out 8 Ball Pool and 3D Billiard 8 Ball Pool. Good luck!