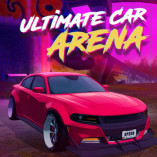 Ultimate Car Arena
Ultimate Car Arena lets you battle other cars with a sports car or play soccer against other players. Your driving and handling skills will be further developed as you drive several different types of cars, which will prepare you for vehicle maneuvers around obstructions and making front and back flips!
How to play
Using WASD, control your sports car and press Shift to ignite the nitro. The spacebar will ignite the handbrake and allow you to drift. It is important to be aware that there are a lot of Mustangs, Porsches, and Lamborghinis in this arena that will be eager to take on your opponent. Don't miss out on collecting all the coins; be the first. Try kicking a big ball into the soccer field's goal if you want extra fun. To jump on grass, press C. To reset your car if it lands on the roof during your tricks, press R.
When you start the game, you will have the option of selecting the difficulty level. The time you need to reach the finish line will determine how fast you will go. The race will be considered lost if you fail to reach the finish line before time runs out. Therefore, you will need to use all of your driving skills. Have fun!