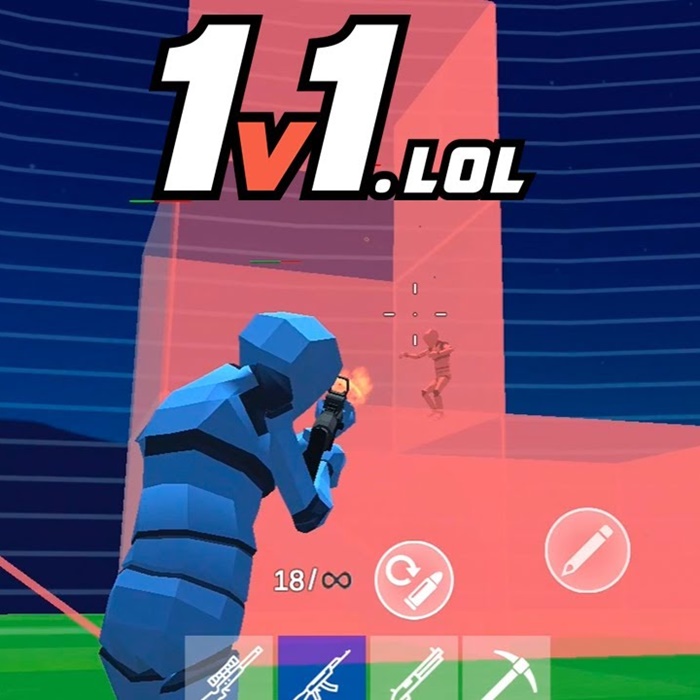 1v1.LOL
In 1v1.LOL, you build and fight against other players online. Show that you are the best in the 1v1 battles. Based on the platform-building mechanics of Fortnite, 1v1.LOL features instant action in a fixed-size arena. Take part in this epic multiplayer Battle Royale-style construction war in which only the last player standing wins the great and coveted title. Have fun!
How to Play
Game modes determine how you play this game. Most of the time, you will be playing a battle royale game in which you must eliminate all opponents and become the last survivor.
With an ax, you can tear down the walls of your opponents. Your keys also contain four building blocks that can be accessed quickly along with your weapons.
As a highly tactical and competitive shooter, 1v1.LOL requires quick and accurate building as well as precise aim. Building skills can be practiced without the hassle of gunfights in build mode.
Game modes:
- BR Duos: There are four teams of two players competing in an arena. To win, you must be the last team standing.
- 1v1: Fight against another player in a fast and intense duel.
- Box 2v2: There are two teams of two players competing in a small arena.
- 1v1 Comp: 1v1 ranked mode.
- Box Comp: Team ranked mode.
- Party: Play with your friends in this mode by creating personalized parties.
Besides building and practicing aiming, the game offers two training modes.
Controls
LMB to shoot/build
WASD to move
Space bar to jump
Shift to crouch
Switch between building platforms by pressing Z, X, C, V, or YF, 1, or 2 to switch weapons
R to rotate stair/reload
G to make door on platforms
E to open doors