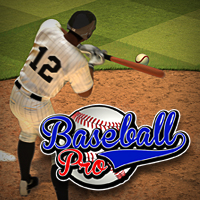 Baseball Pro Game
Baseball Pro Game is a sport of baseball sports in which you compete in official games for the champion during the baseball season. Demonstrate to the opposition squad that you are the best hitter! Bring your baseball bat to the field and take your place. The object of this game is to acquire the maximum possible score by hitting the ball. Prepare to hit every ball your opponents throw at you. After the countdown, the pitcher will throw the ball to you. The pitcher will hit you with a total of ten balls. In the upper left corner of the screen, you can see how many balls you have remaining and your current score. Make an effort to hit the ball on time and make your supporters proud. Best wishes.
If you enjoy the game, don't forget to check out our other fun and entertaining baseball games!
How To Play
To make contact with the ball, use a computer mouse and adjust the screen.