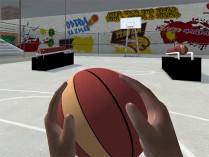 Basketball Simulator 3D
Our website offers a free online version of the engaging first-person basketball sports game Basketball Simulator 3D. This game gives you the chance to showcase your basketball skills by sinking baskets from a variety of distances. You get to root for a team right from the get-go, then race against the clock to rack up goals. Put up as many points as possible to help your squad win the season's cup. Don't be scared to take charge and lead your squad to victory. All the best!
There are also many other appealing sports games to attempt, such as Basketball King, Basketball Run Shots, and so on. Join now.
How To Play
Press the corresponding keys on your keyboard:
To move, use the WASD keys.
The ball can be thrown and aimed using the mouse.
To do a bouncing jump, hit the SPACEBAR.