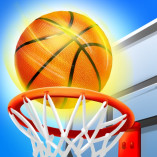 Basketball King
Shoot as many consecutive baskets as you can in Basketball King, a fast-paced basketball simulation. You and your basketball are the only ones here. To be fair, you still have a lot to prove. Aim well and prove to everyone who the real king of basketball is!
Basketball King was made by Inlogic Software.
How to play
Click or tap to throw the basketball into the air and let it land in the basketball hoop. The goal is to make as many baskets as you can in a row. You don't have much time, so you need to act quickly. Learn how to play the game by starting with the tutorial levels. Start with fewer goals and learn how to play this sport. Show how good you are at shooting baskets in four different places, like the gym, the beach, or the basketball court in the park. Even in a cyberpunk setting, you can play! You can become the new Basketball King by using your achievements to unlock more basketballs for the different areas.
If you liked this basketball game, you might also like BasketBros, which is another fun game where you have to aim for the hoops.