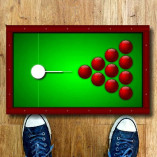 Black Hole Billiard
Black Hole Billiard is a very interesting snooker game with 11 different levels. The difficulty of the game will increase with each stage. Your goal in this game is to hit all the balls on the table that fall into the center hole within the allotted time. At the beginning of the game, you will see on the table a total of 10 red marbles and one white marble. Your goal is to hit the white marbles to put the red marbles into the hole successfully. At each level, the specified time will be different. You have to hit all the red balls that fall into a hole placed in the center. If time runs out and you haven't hit all the balls in the hole, you lose the game. If, on the contrary, you successfully hit all the balls that fall into the hole, you will be moved to the next level in the game.
To win the game, it is essential that you focus and predict the trajectory of each ball to make successful shots. Now it's time to practice your snooker skills.
In addition, if you want to play more attractive snooker games, you can play the following games: City of Billiards, Pool Mania,... Join Russia, and don't miss out.
How To Play
Use the left mouse button to Drag to aim, then Release to shoot.