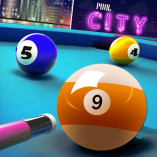 City of Billiards
City of Billiards is a fun sports game. Join this city of billiards and become a pool master. Make perfect goals by aiming and striking the balls. Make sure you arrange your strike point well and aim the ball to hit the perfect ball. Various settings are available for adjusting the cue's direction, speed, and angle. You can improve the accuracy of your shots by adjusting the ball's hit point. There are 20 levels to complete.Don't exceed the number of hits you have.
How to play
Using the mouse, you can control the angle and power of your shot directly on the pool stick, or you can use the controls on the right and left to control the stick. Hit the other balls into the six holes on the side and corners of the table using the white ball. Don't lose the white ball, and don't hit the black ball into the holes; otherwise, you will lose the level. As you travel from one pool hard to another through the city, the table setting gets more challenging, so focus harder so you can complete them without stress.
Are you looking for more games like this? We also have Pro Billiards, which is another popular title.