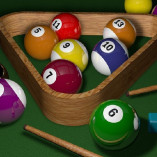 Pro Billiards
Unlike traditional pool games, Pro Billiards allows you to play alone on a timer. Additionally, you can challenge a friend to a turn-based game. The same rules apply as in the present pool 8 ball game. Get ready to be a pro in this billiards game!
Game modes
Two versions of 8 Ball Pool are available in this game, one of the most popular billiards games in the world
Player vs. Timer:
All balls and the 8 ball must be pocketed before the timer expires.
There is no opponent for you.
All balls must be pocketed within 30 minutes.
Each ball you pocket earns you points (represented as dollars).
You can share your winnings on social media once you've won.
Player vs. Player:
Compete against a human opponent.
In this game, the 8-Ball Billiards rules apply.
This mode is subject to the following rules, unless otherwise specified.
When you release the shot, angle it carefully and release when it is at the right strength. Use the cue ball to pocket all the balls. Make sure you pocket the 8 ball last. Pro Billiards is different from other logic games and pool games as well. There is also an online pool game called 8 Ball Online.