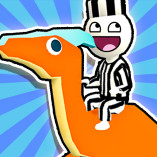 Dino Rush - hypercasual runner
Dino Rush - Hypercasual Runner is a game that mimics an intensive 3D dinosaur running competition. This is an excellent choice for dinosaur fans. In this game, you will compete in a race against giant dinosaurs. Obstacles and other vehicles on the track will obstruct your path to the finish line. You must control your dinosaur to avoid all hazards and safely reach the finish line. You must also gather bones and coins along the route to the finish line to improve your strength. After crossing the finish line safely, you will be awarded a set number of points, and the system will automatically advance you to the next level and continue the competition with other large dinosaurs. Don't be afraid to join the game and become the strongest dinosaur. I wish you a good time!
How To Play
To avoid harm and reach the end of each level, use the mouse to guide the dinosaur as it runs for coins and bones.