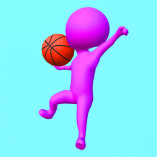 Faceball
FaceBall is an entertaining basketball sports game in which you must use your basketball abilities to defeat your opponent and complete each level. The objective of this game is to complete each level by throwing a basketball at your opponent. The green stickman will represent your character, while the crimson stickman will represent your opponent. Each will handle a basketball in order to throw it at the other. To strike the opponent with a single throw, you must align the angle and direction of the ball precisely. If you throw in the incorrect direction or allow your opponent to strike you down, you will lose. Before it is too late, attempt to vanquish your opponent. How many levels are there in this entertaining basketball game? Join now and demonstrate your precise shooting abilities in basketball.
In addition to Basketball Simulator 3D, Hoops Champ 3D, and... there are a number of other fascinating sports games on our website that are awaiting your discovery. Join today!
How To Play
Simply target your throw by holding down and dragging the left mouse button, and then releasing it to launch the ball towards your foe.