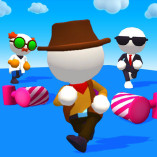 Fall Friends
The multiplayer obstacle course game Fall Friends is a lot of fun. The goal of this game is to win every race you enter. You and some other people are going to run an obstacle course. After the starter's gun goes off, everyone will push forward, sprint, jump, and do everything it takes to get to the finish line as rapidly as possible within the allocated time. If a competitor does not reach the finish line within the specified time, they are eliminated from the competition; if they do, they advance to the next round. However, subsequent stages will increase in difficulty, necessitating lightning-fast character management to the finish line in order to vanquish the opponent and claim victory. Get in on the action right away and secure your place in the hall of fame. Have a wonderful day!
How To Play
To move, use the WASD or arrow keys.
To jump, press SPACEBAR.