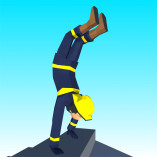 Handstand Run
Handstand Run is a racing game to keep balance through a banana tree position with the character of a firefighter racing with others. You will participate in a race for the banana tree position with others. Your goal in this game is to finish first and beat your opponent. You can use different skills in the banana tree pose to overcome your opponent, such as walking and even running. Your mastery of balance is really important if you want to finish first as you run around all kinds of stairs, doors, and weird obstacles along the way. Show us your banana tree growing skills.
Also, if you want to try some other interesting sports games, then you should try some games like Stickman Sports Badminton, Cliff Diving,... Join now and don't miss any interesting games on our website.
How To Play
Use the mouse to control the character in the game.