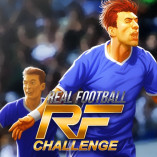 Real Football Challenge
Play Real Football Challenge to practice penalty shootouts, then show off your skills in competition. Play as one of your favorite players and train hard to score lots of goals against tough opponents. Now it's your turn to light up the stadium!
Real Football Challenge was developed by Gameloft SE.
How to play
Your goal in this football game should be to aim well and shoot right into the goal post. As a first step, go over the whole move in preparation for scoring. You practice shooting and aiming alone before the goal as part of your training. Your next challenge will be to shoot past a goalkeeper. Your teammate will soon be on your side, and you should pass the ball to him so he can score. As you progress through the levels, additional players will appear on the field to face you and your teammate.
Controls: You can control the game by dragging your finger across the screen or using the mouse. You will see a short line showing the direction and helping you aim. Your shot's power and strength vary based on how far back you drag the mouse. Once you release, your character will begin a penalty shootout!
There are more sports games for ambitious kickers: You might enjoy Head Soccer 2022 if you like Real Football Challenge.